Vorabscheider ULTRA – your universal operation aid
Pre-separators are used if materials and liquids should be cleaned and filtered during operations before being passed on to sewer systems or before disposal.
Mounted in front of the suction side of the MACH series industrial vacuum cleaners for sludge, the pre-separators from Rössle AG separate everything that needs to be filtered during suction work. Separation of large solids takes place by gravity – sucked in suspended parts sink in the tank and remain at the bottom. Filtration with the perforated aluminium filter screen (on the ULTRA pre-separator) and the sponge filter stops coarse particles before they reach the industrial vacuum cleaner for sludge. This effectively prevents blockages in the suction unit of the FD vacuum cleaner.
The pre-separators are also ideally suited for use in the event of oil spills. For example, oil binding agents or other granulates are sucked in and filtered out in the pre-separator before they reach the suction unit of the industrial vacuum cleaner for sludge. The contaminated material in the container can thus be disposed of at the appropriate collection points after use.
The pre-separators can optionally be equipped with a pneumatic chassis, which not only significantly improves mobility, but also facilitates easy emptying / disposal of the accumulated liquids and materials after use.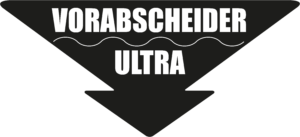 | Technical data | Pre-separator ULTRA |
| --- | --- |
| | |
| | |
| | |
| Material and grain size filter sieve | Aluminium, 22 mm hole diameter |
| | |
| | 1 meter length, 2x Storz-C connection |
| | 52 x 74 cm (diameter x height) |

Technical data pre-separator ULTRA
Tank capacity: 90 litres
Material tank: GRP
Material sponge filter: PPI 10T/PUR ether
Material and grain size filter sieve: Aluminium, 22 mm hole diameter
Weight: 20,5 kg
Connecting hose: 1 meter length, 2x Storz-C connection
Dimensions: 52 x 74 cm (diameter x height)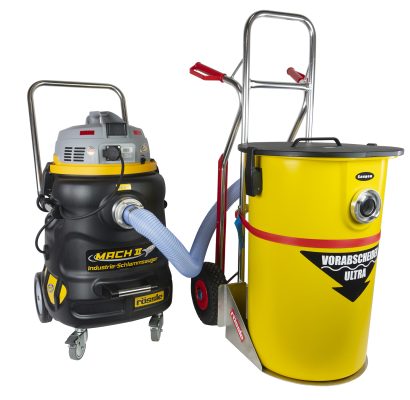 Large 90 l tank
Robust materials and compact design
Minimized equipment wear
1 m long connection hose
Excellent mobility when using the optional pneumatic chassis
| Technical data | Pre-separator |
| --- | --- |
| | |
| | |
| | |
| | |
| | 1 metre length, 1x Storz-C connection |
| | 47 x 64 cm (diameter x height) |

Technical data pre-separator
Tank capacity: 65 litre
Tank material: HDPE
Material sponge filter: PPI 10T/PUR ether
Weight: 10,5 kg
Connecting hose: 1 metre length, 1x Storz-C connection
Dimensions: 47 x 64 cm (diameter x height)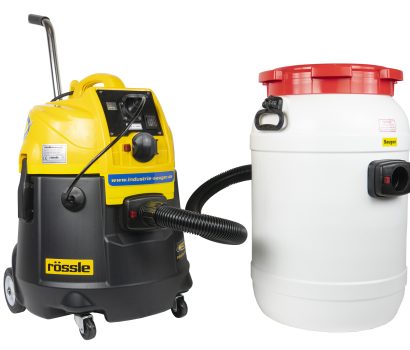 65 l tank capacity
Robust materials and compact design
Minimized equipment wear
1 m long connection hose
Excellent mobility when using the optional pneumatic chassis
| Technical data | Optional chassis |
| --- | --- |
| | |
| | |
| | |
| | |
| | 48 x 70 x 118 cm (width x depth x height) |

Material: Aluminum
Tyres: Treaded pneumatic tyres
Weight: 7,5 kg
Maximum load 250 kg
Dimensions: 48 x 70 x 118 cm (width x depth x height)