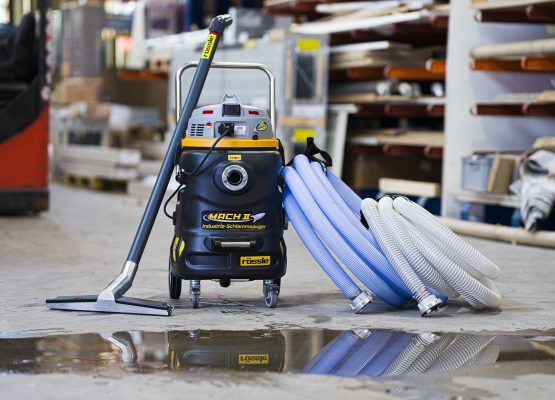 MACH II – the high-performance powerhouse
A reliable, flexible suction-pump combination like no other – the MACH II enables effective and uninterrupted suction and pumping of even large quantities of water and sludge.
The sewage water pump installed in the tank with a suction capacity of up to 15,000 l/h and the suction turbine in the top of the device not only move normal water, but also transport and pump heavily contaminated water and sludge with a blockage-free solid body passage of 40 mm. By means of the 12 m long C-hoses, a large working radius is achieved, which means that, for example, pumping from basements is also possible.
The MACH II is the high-end device for water and sludge.
Technical data

MACH II

Weight (without accessories)

Suction hose and drain hose

12 meter length each, ø 50 mm

47 x 66 x 97 cm (width x depth x height)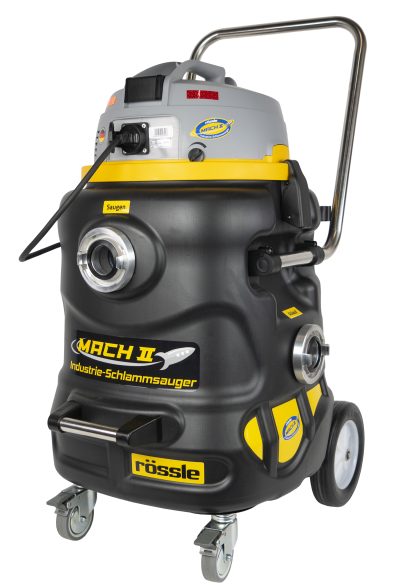 Technical data MACH II
Suction capacity: 15,000 l/h
Suction turbine power: 1200 Watt
Sewage water pump power: 1000 Watt
Weight (without accessories): 30 kg
Suction hose and drain hose: each 12 metres long, ø 50 mm
Dimensions: 47 x 66 x 97 cm (width x depth x height)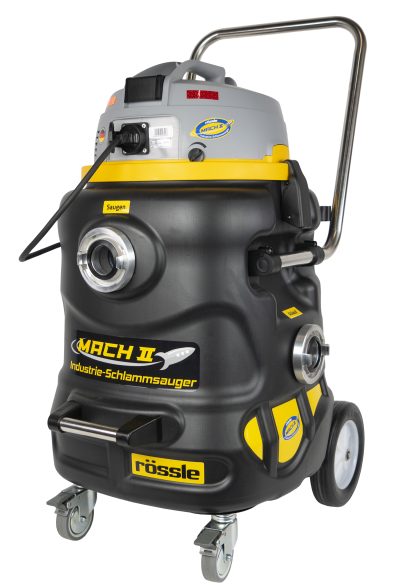 Enormous handiness and excellent rolling characteristics
Mechanical suction power regulation
C-Storz couplings on suction and drain side
12 meter long suction and drain hoses
Extension hoses for suction and drain side for a total range of 24 meters
New from 2023: Hose reinforcement / kink protection for the suction hose
Robust materials and compact design
Large 70 litre tank
No service intensive electronics
Continuous operation with 5 kVA DIN generators
Cable length of 10 meters
Working noise of 64 dB (A)
Industrial vacuum cleaner for sludge MACH II
12 m long suction hose
12 m long drain hose
120 cm suction pipe, ø 50 mm
Aluminium floor nozzle
Hose shut-off with ball valve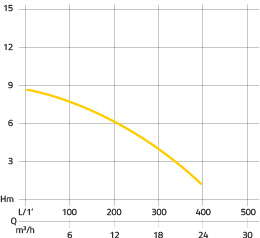 The industrial vacuum cleaner foir sludge is characterised by an enormous pumping capacity. The diagram shows the pump capacity in m³ per hour in relation to the pumping height.
Additional package for special operations
Spills of coolants or hydraulic oil are a frequent occurrence, especially in industrial production facilities. With nozzles, a hose and stainless steel suction pipes in oil-resistant quality, the MACH II becomes the perfect tool for these cases. Mobile containers can also be equipped with the box accordingly.
With the additional package for the MACH II, you are fully equipped for all possible applications.
The additional package includes:
Storage box with lid
Oil-resistant suction hose with C-Storz coupling, 4 m
Stainless steel suction pipe, 2-piece, ø 40 mm
Mobile floor nozzle, ø 40 mm
Plastic joint nozzle
Blind coupling and ball valve for closing the couplings on the suction side and the discharge side of the industrial vacuum cleaner for sludge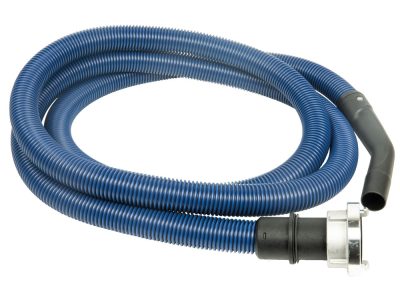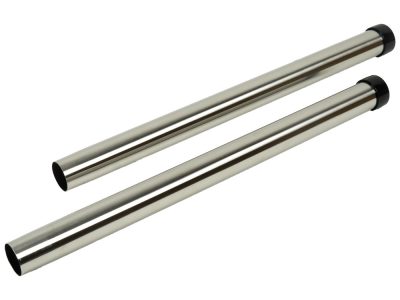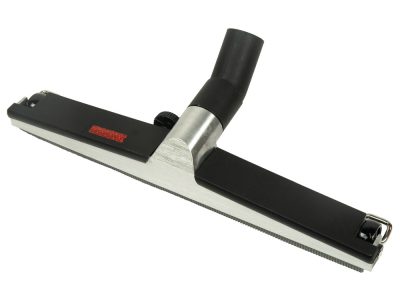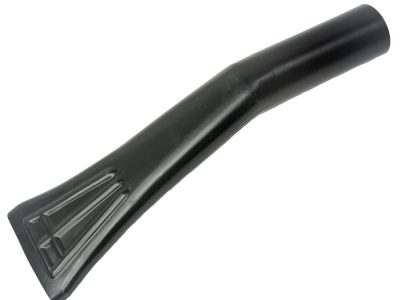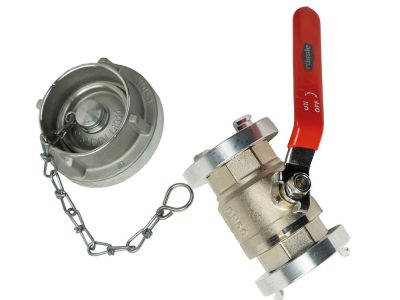 | Technical data | Additional package |
| --- | --- |
| | |
| | 60 x 40 x 22 cm (width x depth x height) |
| | |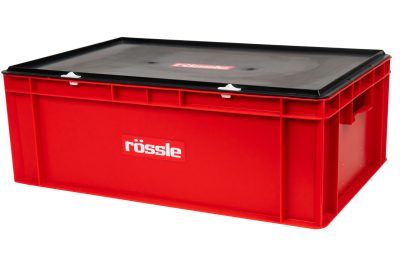 Technical data additional package
Weight: 10 kg
Dimensions storage box: 60 x 44 x 22 cm (width x depth x height)
Material storage box: Polypropylene